Please call 610.287.3342 to check prices and availability.
Check out our "Used Parts". We get new stuff in all the time, so check back often.
"Click on the Thumbnails for a larger Picture".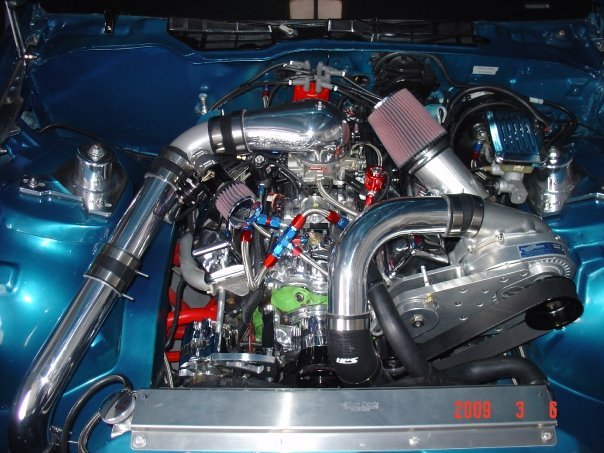 355 cu in. engine
Dart Little M Engine Block
Custom JE Nitrous pistons with a 10.50 : 1 compression on a 67cc head (excellent pump gas motor)
JE custom nitrous pistons with file fit hellfire rings
Eagle 4340 forged crank with a 4.340 stroke (rated to 1000 hp)
6.00 Inch Eagle H Beam connecting rods with ARP bolts (rated to 1000 hp)
All ARP studs/fasteners throughout motor for ultimate durability
Moroso blueprinted oil pump
Chrome Moroso oil pan
Fel-Pro MLS Gaskets
Fel-Pro gaskets on entire motor
Pete Jackson Gear Drive (noisy)
Polished aluminum timing chain cover (clearanced for gear drive)
Billet Timing tab
SFI rated Dampener
Brodix Race Rite 200 cc CNC heads
Comp Cams custom grind solid roller lifter camshaft with 4/7 swap (specs to be released to new owner)
Comp Cams Rev Kit
Comp Cams Magnum Roller Lifters
Comp Cams chrome Moly pushrods
Comp Cams valve springs 1.550"
Comp Cams valve spring retainers
Comp Cams valve locks
Comp Cams Pro Roller rockers
Comp Cams stud Girdles
Chrome Valve Covers
$6500.00 (neg) CASH only, no trades, etc considered so please do not waste my time.
On a 200 hp shot of nitrous the car ran a 10.56@127MPH and with a procharger D1SC this motor through a th400/ford 9 inch made 650 RWHP on pump gas at a 11:1 a/f ratio 9safe street tune) and ran 130 MPH in the qtr at 10 flat, I am sure a more aggressive timing/fuel ratio and you can easily have a 9 sec car on pump gas. Motor can be heard running if you would like.